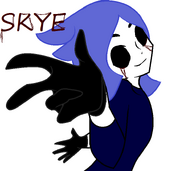 This is Skye, the evil sister of Star, if ANYTHING gets in the way of Skye, it'll be dead, beaten, or hurt.
Personalities.
Edit
Skye has not many personalities.
She loves to hurt people.
She loves halsey.
She loves the taste of metal.
She HATES cute things.
She hunts for Goldie and Anime.
She is gonna kill Goldie and Anime but Star won't let her do that.
Afraid of.
Edit
Cuteness.
Sweet things.
Love.
Hugs.
Candy.
Food. (except for metal and coppy, she eats that, man is she insane?)
Being with people that love cutes things.
Nothing else except for the things above.